| | |
| --- | --- |
| Lt. Col. Leon James, Reunion 2004 | Lt. Col. Leon James, Reunion 2004 |
Lt. Col. Leon G. James II, of Sackets Harbor, N.Y. commanded the 3rd Battalion, 314th Regiment of the 2nd Brigade, 78th Division (Training Support) based at Fort Drum, N.Y.
Lt. Col. James died October 10, at Walter Reed Army Medical Center, Md., from wounds sustained in a September 26 attack in Iraq.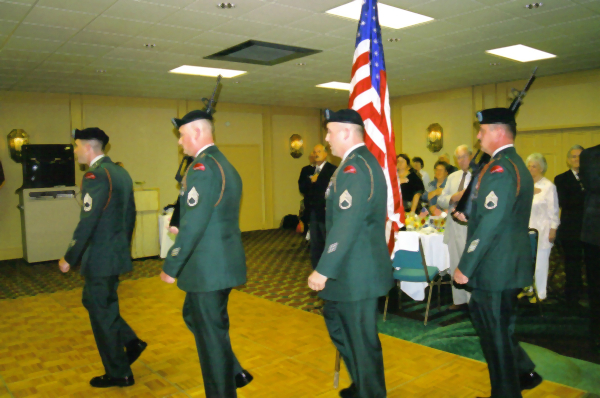 2004 Color Guard
Unlike the majority of the United States Army's Regiments of World War II, the 314th Infantry Regiment was reactivated in 1947 and has continued to exist as part of today's United States Army. In 2009 the 1st Battalion of the 314th Regiment, Infantry, and the 3rd Infantry Battalion of the 314th Regiment, Field Artillery are part of the 174th Infantry Brigade based in Fort Drum, NY. Components of the 314th have served in Iraq in support of what the US Army refers to as "theater strategic objectives."

Service Members of Today's 314th Who Were Killed in Action in IRAQ and Their Families:
The 314th Infantry Regiment still exists as an active Regiment in today's United States Army, and it has been the privilege of our World War II veterans to have an Honor Guard of today's 314th attend our annual reunions.
At our 2004 reunion in Gatlinburg, Tennessee today's US Army's 314th honored the WWII 314th Veterans by the appearance of their Honor Guard including Lt Colonel Leon James and senior NCO's of the 314th. In 2005 components of today's 314th deployed to Iraq. Tragically, in 2005 Lt Colonel James as well as Master Sergeant Tulsa T. Tuliau, Sergeant 1st Class Casey E. Howe and Sergeant 1st Class Michael A. Benson were killed in action in the service of our country.
Lt. Colonel James left behind his wife Sylvia and their 3 daughters. Sergeant Howe was survived by his Wife and 4 young children, Sergeant Tuliau; a Wife and 2 children and Sergeant Benson was survived by his Wife.
Unlike any of our past reunions, in 2009 the 314th Infantry Association WW II has decided that our special guests of honor will include the four wives and nine children of Lt. Col. James, Sergeants Howe, Tuliau and Benson. We want them to be aware that this country will not forget their sacrifice and we want them to enjoy a very special vacation on the sunny sands of Daytona Beach, Florida.

Honoring the Fallen by Deeds not Words and Our Goal
On Memorial day many people pay lip service to the sacrifices of our service members and their families, but are words enough? We felt that a tangible thank you in the form of deeds not words was the appropriate way to honor them for the ultimate sacrifice, but the WW II veteran members of Reunion and their families cannot do this without your help. With your help we can cover all costs including airfare so that wives and nine children of Lt. Col. James, Sergeants Howe, Tuliau and Bensonto can attend the 2009 Reunion in Daytona Beach and enjoy the sun and sand at the world's most famous beach.
Consider this Internet posting to the family of Lt. Col James which is as relevant today as it is to the predecessors in the 314th just three generations ago in WW II:
"If this person can stand in battle to ensure my freedom, then I will stand in grief with his or her family to honor him or her. For every fallen hero there is a bright star that shines in the evening sky to remind us of the cherished gift we were given – even if for too short a time. My heart breaks again as I sign yet another guest book of another courageous young soldier who gave their life so selflessly. I wish I never found myself in a position to have to sign another guest book for the rest of my life, but I promised Le Ron A. Wilson (a dear friend KIA July 6, 2007, 18 yrs old) that neither he nor any like him would be forgotten and so I will continue until the day there is no longer the need."
-- Althea Barrett, Queens, NY, PROUD MOTHER OF A UNITED STATES SOLDIER
By inviting the families of Lt Col Leon James, Master Sgt Tulsa T. Tuliau, Sgt 1st Class Casey E. Howe and Sgt 1st Class Michael A. Benson, not only our WW II Veterans but you make the 2009 reunion a special event. It is our hope that through donations this will be possible; what better way for each of you to show the families of these brave men that a grateful nation remembers?
Our reunion costs in 2009 will therefore far exceed our normal ability to cover them. With this devastating economy, we realize this isn't the best time. But then as one of our WW II veterans said "What value is there to a sacrifice if it isn't something that's hard to do at the time?" Tragically the cost to our nation remains high with each precious life lost. The impact that those losses have is not only to them, their families and friends but to our nation as a whole.

Your donation payable to "314th Infantry Association WW II, Inc." in any amount is greatly appreciated and since we are a non-profit organiztion your donation is tax deductible under Section 501 (c) (19). We would also appreciate the donation of nice items that can be raffled and these items are also tax deductible charitable donations.
Feel free to contact : Eric V. Gill at (386) 788 1776 weekdays (Monday through Wednesday), best.
Also cell (386) 547-1488 by chance and by email to ericgill4393@gmail.com or by US mail to 4393 Ridgewood Ave, Port Orange, Florida 32127.

Very truly yours,



Eric V. Gill,
2009 Reunion Chair and
the WW II veterans of the
314th Infantry Regiment