Honoring Today's U.S. Army's 314th Infantry Regiment
(Enjoy the photographs below!)
Our WW II Veterans and their families have been deeply touched over the years by the attendance of the Commanding Officer and the Color Guard of today's 314th Infantry Regiment at our annual Reunions.
Today's 314th Infantry Regiment has honored our WW II Veterans and their service and their sacrifices over 60 years ago. So, in 2009, the 314th Infantry Association WW II, Inc. has decided to honor today's 314th Infantry Regiment for their service and their sacrifices in today's challenging world.
Our invitation to attend this very special Reunion September 24 – 27, 2009, extends to all present and past members of the 314th Infantry Regiment from 1947 through 2009. Please contact Eric V. Gill for more details!
Our Reunion site is the Plaza Hotel located on the beach in Daytona Beach, Florida, so you can walk directly from the pool deck directly onto the World's Most Famous Beach. Our host hotel is very much oriented to military service since some of their key people are themselves former service members. For example, the Plaza Hotel has made an entire ½ acre spillover parking area available for the WW II re-enactors who are putting together a huge display with WW II vehicles and displays. The WW II Reenactment community itself has many former service members. Both WW II U.S. Army and WW II Russian Army re-enactors who are putting on our Reunion display have chosen the theme to Honor the 314th and the Victory in Europe in 1945 as well as to honor today's 314th Infantry Regiment.
Daytona Beach not only has the awesome beach and the Daytona International Speedway, but the area offers hidden treasures such as the third best historic lighthouse in the World. St. Augustine is a one hour drive north; Kennedy Space Center is a one hour drive south, so Daytona should be a great destination for your September vacation deployment!

| | |
| --- | --- |
| Lt. Col. Leon James, Reunion 2004 | Lt. Col. Leon James, Reunion 2004 |
Lt. Col. Leon G. James II, of Sackets Harbor, N.Y. commanded the 3rd Battalion, 314th Regiment of the 2nd Brigade, 78th Division (Training Support) based at Fort Drum, N.Y.
Lt. Col. James died October 10, at Walter Reed Army Medical Center, Md., from wounds sustained in a September 26 attack in Iraq.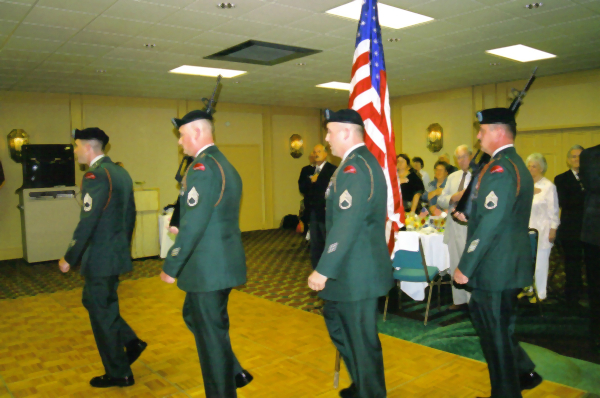 2004 Color Guard
Certainly one of our oldest WWII Reunion attendees was the late Valentin Gill who was 96 years old when he attended his last Reunion in 2004 and was a 36 year old Corporal with the 314th's Recon Troop in WWII.

Pictured here in 2004 with Walter George.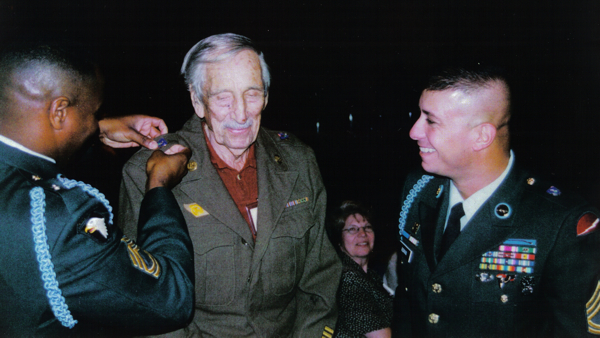 Three Sergeants of today's 314th Regiment took note at our Saturday evening banquet. In an impromptu ceremony one said "Soldier, you're missing something from your uniform" and each took a 314th Unit Crest from their epaulets and pinned them on the epaulets of Mr. Gill's "Ike" jacket. There is a special connection between those who are going forward today with those who have gone before them.

314th Infantry Regiment; Fort Drum, NY
Commanding Officer: Colonel Coby M. Peterson