A good friend of the 314th Infantry Regiment Association shared a PDF file of the unit's accounting in World War II, called "Through Combat." This book was originally made available to all members of the 314th after the war. Few copies exsist today, and someone has graciously provided this file available for download.

For instructions, please see below.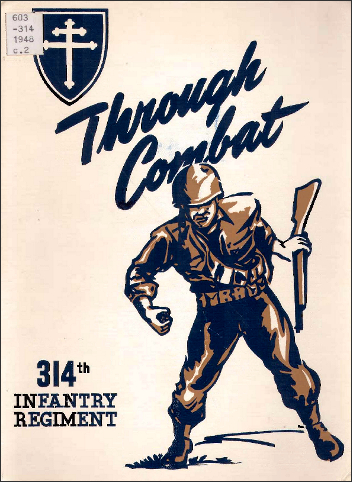 CLICK HERE

to be taken to

Through Combat

in PDF format online. To view a PDF document, you need Adobe© Acrobat© To download Acrobat, click the

icon to the right

. This link will open in a new window and select Adobe© Acrobat© 9 to begin your download.

To download a zipped compress file of

Through Combat

,

CLICK HERE

. You will need decompression software to open and extract this file. You may find a free utility for Windows OS

HERE

. For MAC users,

HERE

. These are just suggested site to try. In no way do we endose these products.

Past Reunions
2008 Gatlinburg
2007 Indianapolis
2006 Charleston
2005 Columbus
2004 Gatlinburg
2003 Phoenix
2002 Pittsburg
2001 Reading
2000 Chesapeake
1999 New Orleans
1998 Baltimore
1997 Denver
1996 Dayton
1995 Pittsburg
1994 Lancaster
1993 San Antonio
1992 Dayton
1991 Baltimore
1990 Clearwater
1989 Lincoln
1988 Secaucus
1987 Lancaster
1986 San Jose
1985 Clearwater Beach
1984 Chicago
1983 St. Petersburg
1982 Dayton
1981 Stroudburg
1980 Lincoln
1979 St. Petersburg
1978 St. Louis
1977 Stroudburg
1976 Philadelphia
1975 New York
1974 Chicago
1973 Washington
1972 Rochester
1971 Philadelphia
1970 New York
1969 Milwaukee
1968 Detroit
1967 Washington
1966 Chicago
1965 Cleveland
1964 New York
1963 Philadelphia
1962 Philadelphia
1961 Chicago
1960 Rochester
1959 New York
1958 Milwaukee
1957 Niagara Falls
1956 Washington
1955 Detroit
1954 Pittsburg
1953 New York
1952 Indianapolis
1951 Chicago
1950 Cincinnati
1949 Cleveland
1948 Philadelphia